AudiMax
Getreidemarkt 9
1060 Wien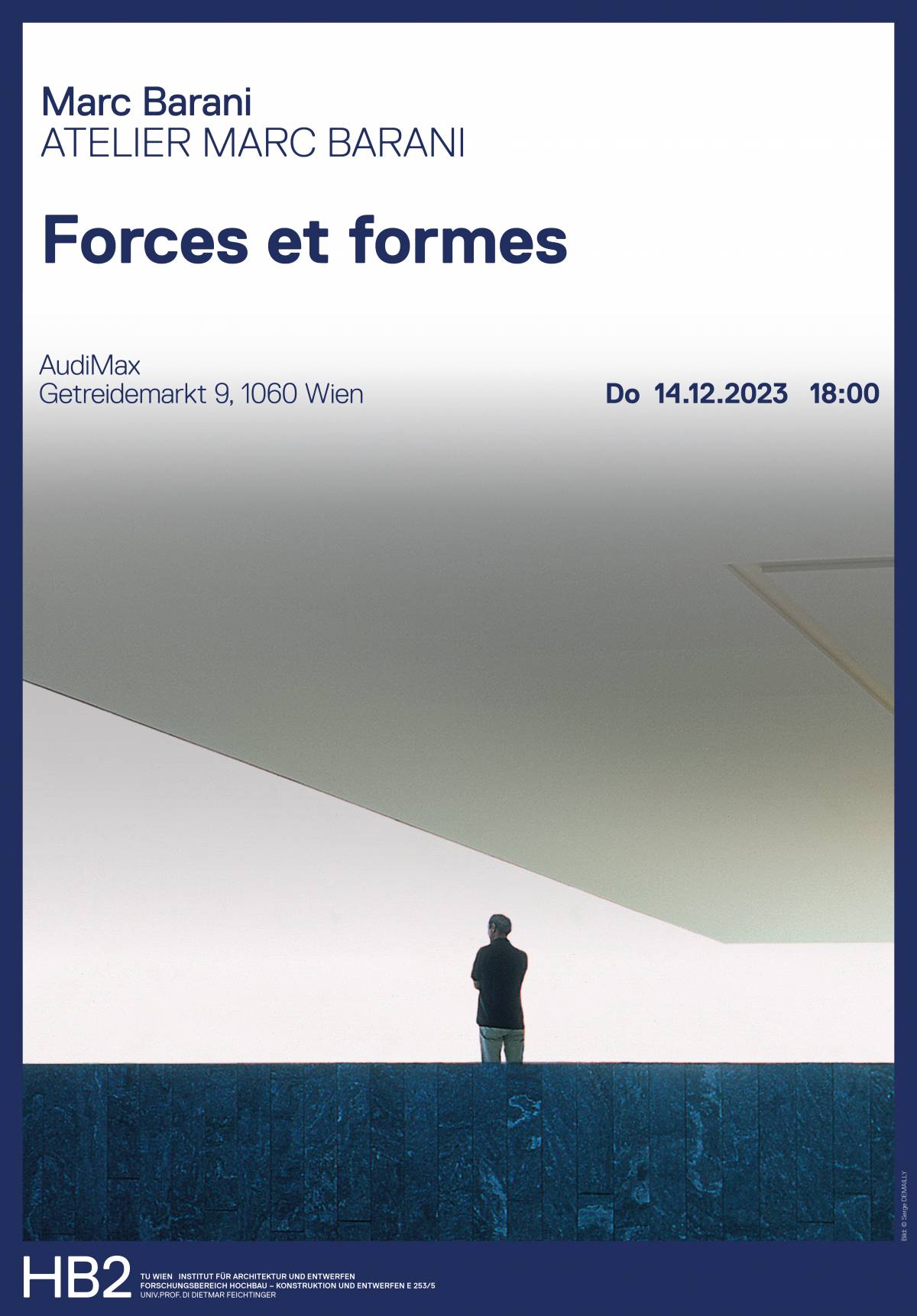 Marc Barani / ATELIER MARC BARANI
Forces et formes

After having studied Architecture and Scenography, Marc Barani completed his training by attending studies of anthropology which have led him to Nepal. His staff is multidisciplinary and gathers, according to the projects, architects, scenographers, designers and landscapers. The atelier works on projects of very various sizes and types, as public and transport infrastructures, housing, civil engineering structures. Marc Barani has taught architecture from 1993 to 2003 and has been extensively involved in the Ministry of Culture and Communication especially in the new National Strategy for Architecture (SNA).

The Prize of "Equerre d'Argent" (2008) / The Grand National Architecture Prize (2013) / The Golden Medal by the French Academy of Architecture (2018) / Member of the Academy of Fine Arts (2018)

Thursday 14.12.23 18h00
AudiMax
Getreidemarkt 9, 1060 Wien

___

HB2 Lecture Series - TU Wien / Univ.Prof. DI Dietmar Feichtinger
Made in France

Architecture has a socio-political presence in France. Presidents have manifested the visibility and status of the built environment through their initiative:
Georges Pompidou with the Centre Pompidou, Francois Mitterand with the Grands Projets, the French National Library, the expansion of the Louvre, the Grand Arche in the Defence, Jacques Chirac with the Museum at Quai Branly.

Eight protagonists of current French architecture will come to the TU Vienna.
They represent different approaches to architecture and at the same time several generations.
They will explain themselves through reports on their work and their architectural attitude.

Tue 14.11.23 Yves Moreau, Gilles Delalex, Quentin Moranne / STUDIO MUOTO
Thur 14.12.23 Marc Barani / ATELIER MARC BARANI
Thur 11.01.24 Myrto Vitart / IBOS VITART ARCHITECTES
Thur 14.03.24 Jacqueline Osty / ATELIER OSTY ET ASSOCIÉS
Thur 21.03.24 Gaëlle Lauriot-Prévost / DOMINIQUE PERRAULT ARCHITECTURE
Thur 11.04.24 Dominique Alba / POLITICS, CITIES, ARCHITECTURE
Thur 18.04.24 Florence Lipsky / LIPSKY + ROLLET
SS24 Lina Ghotmeh / LINA GHOTMEH — ARCHITECTURE