Montag, 20. November 2017, 18:00 Uhr
Technische Universität Wien
Karlsplatz 13, Hof 2, Stiege 7, EG
1040 Wien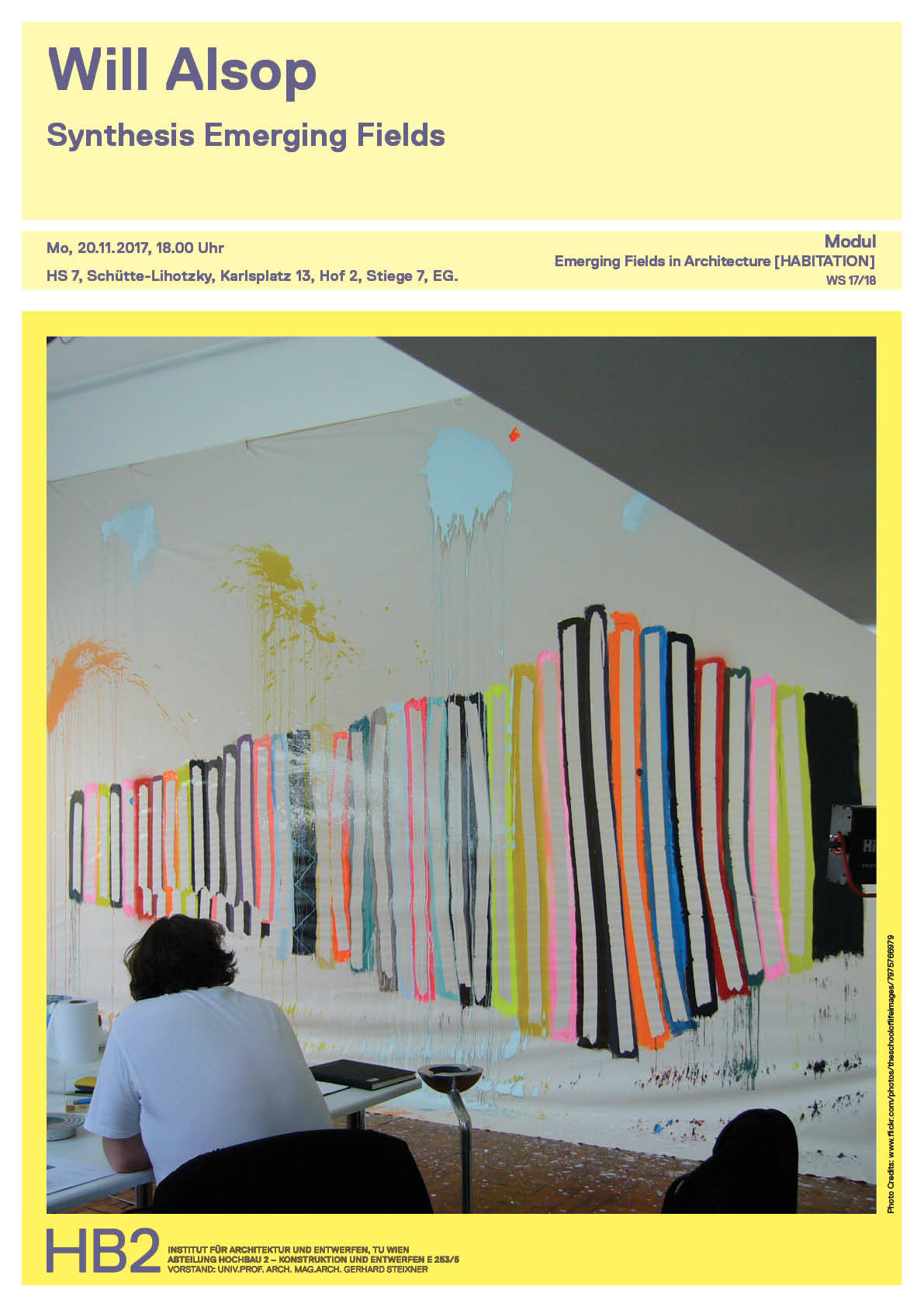 William "Will" Allen Alsop OBE, RA (* 1947 in Northampton, UK) ist ein britischer Architekt und Maler, der in London tätig ist. Alsop besuchte die Northampton Art School. Er selbst erzählt in einem Interview 2001, wie stark er von Henry Bird, seinem Zeichenlehrer und dem Zeichnen an sich, beeinflusst wurde. Danach studierte er an der Architectural Association School of Architecture in London. Während dieser Zeit – mit 23 Jahren nahm er am Architekturwettbewerb zum Centre Georges Pompidou in Paris teil und wurde nach Renzo Piano und Richard Rogers mit dem zweiten Platz geehrt. Am Beginn seiner Karriere arbeitete Alsop unter anderem mit Cedric Price zusammen. Sein gegenwärtiges Unternehmen – aLL Design – verfügt über Büros in London, Chongqing und Doha.
Alsop hielt mehrere Gastprofessuren inne. Unter anderem war er Professor an der Hochschule für Künste in Bremen. Seit 1997 ist er ordentlicher Professor an der TU Wien. Innerhalb seiner Laufbahn wurde er mehrfach zum Ehrendoktor und gewann eine Reihe von Architekturpreisen. Für seine Verdienste im Bereich der Architektur wurde ihm 2000 das Offizierskreuz des Order of British Empire (OBE) verliehen. Ebenfalls 2000 wurde Alsop wegen seiner neu errichteten Bibliothek in Peckham im Südosten von London zum Stirling-Preisträger. Neben jener Bibliothek können wohl die Glenwood Power Plant in New York sowie das Sharp Centre for Design in Toronto zu seinen bedeutendsten Bauwerken gezählt werden.
Alsop ist nicht nur im Feld der Architektur, sondern auch im Bereich der Malerei sowie im Produktdesign tätig. Als Maler nutzt er das Medium um einen klaren Kopf zu bekommen: "Einer der Gründe für die Malerei ist, dass man nicht wirklich die Kontrolle über das Ergebnis hat – und das interessiert mich sehr. Statt dass man einen klar definierten Startpunkt hat, welcher unter Umständen in der Architektur zu einer Serie von logischen Gedankengängen führt, die dann ein designtes Gebäude ergeben, kann man bei der Malerei anfangen wo es einem beliebt."
http://www.all-worldwide.com/who/us/?id=1348
https://austria-forum.org/af/AustriaWiki/Will_Alsop#cite_note-Observer:_Will_Alsop-1
https://twitter.com/walsop?lang=de
Event: https://www.facebook.com/events/1955327438079584/
Literatur:
Tom Porter, Will Alsop – the noise, Routledge 2010.
Modul Emerging Fields in Architecture, HB2, TU Wien 
Das Modul 'Emerging Fields in Architecture' vermittelt aktuelles Wissen aus sogenannten "Entwicklungsgebieten" in architektur- und ingenieurswissenschaftlichen Disziplinen. Eine Auseinandersetzung mit Lösungsansätzen, die über eine tradierte Denkweise hinausgehen wird gefördert um eigene Entwurfsherausforderungen fachübergreifend und grundlegend zu erfassen.
Im Wintersemester 2017 ist das Modul Emerging Fields in Architecture "dem Wesentlichen auf der Spur …". Was ist das wirklich wesentliche? Was wird wirklich benötigt? Gibt es noch Visionen und wohin führen sie? Wie können Notwendigkeiten erkannt und räumlich umgesetzt werden? Und was kann man aus der Vergangenheit für morgige Projekte lernen?
http://www.hb2.tuwien.ac.at/de/lehre/modul/emerging-fields-in-architecture-m20.html