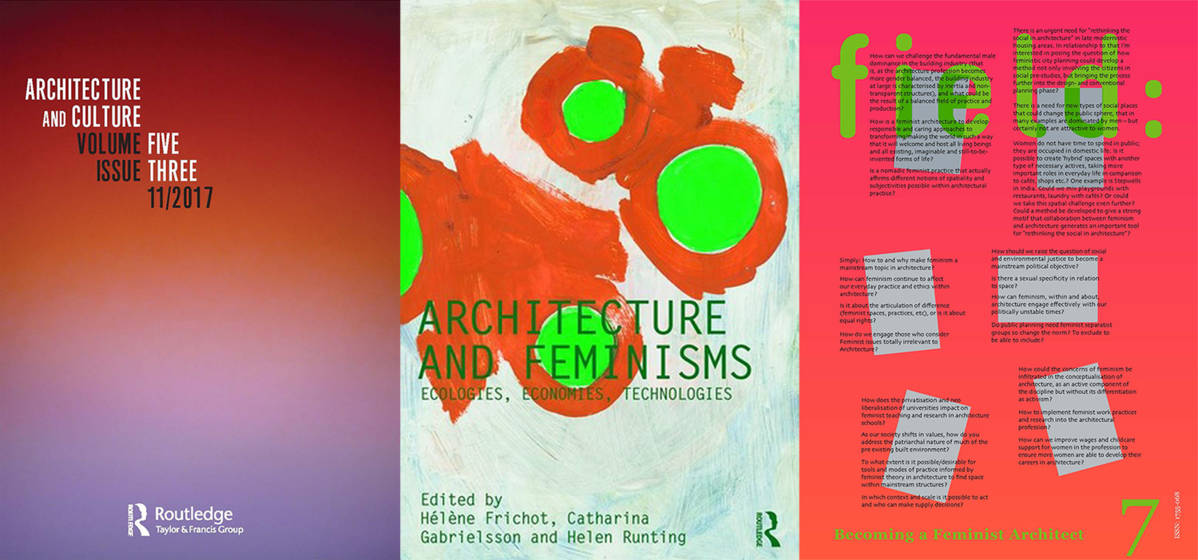 In November 2016 the AHRA conference Architecture & Feminisms: Ecologies, Economies, Technologies took place at KTH (Royal Institute of Technology) Stockholm. One year later, three publications – two journals and a book – offer a multi-faceted account of the diverse questions and methods used to approach important connections between architecture and feminisms.
With these three publications – the anthology Architecture and Feminisms and the special editions of Field Journal and Architecture and Culture – we have made an effort to create a space for as many of the voices, subjects and positions as possible, which gathered at the conference event. The assembled 59 contributions explore an abundance of different formats, from academic articles to poems, expressing a feminist project that necessarily acknowledges a plurality of positions.
The editors Hélène Frichot, Karin Reisinger and Meike Schalk, as well as the authors Elke Krasny and Julia Wieger will offer short presentations.
Moderation: Christina Linortner
Veranstaltung in englischer Sprache.
Image:
Cover Architecture and Culture 5(3) - © Alice Bosc
Cover Architecture and Feminisms – cover image by Eva Löfdahl, "Saturnus" (1981) - © Moderna Museet Stockholm
Cover field 7(1) – Table arrangement of the Interstitial Breakfast by taking place at the AHRA conference "Architecture & Feminisms: Ecologies, Economies, Technologies," Stockholm, 2016. Plan by Helen Stratford. Graphic design by Anrdejs Ljunggren & Gabriel Kanulf